Our Veterinarians
The Okanagan Veterinary Hospital team of skilled veterinarians welcomes you to our practice, proudly serving the Kelowna area. At Okanagan Veterinary Hospital, it is our daily privilege to provide quality vet care to your cherished pet, with compassion and competence. We hope to ensure a positive impact on our patients, pet owners and the local community.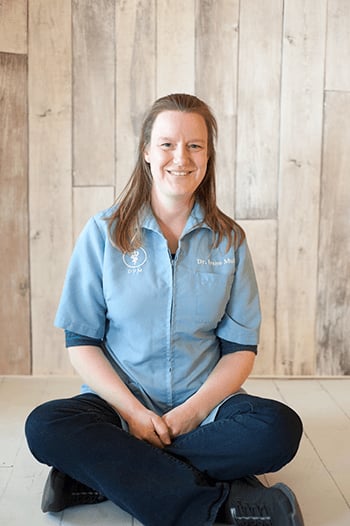 Irene Mul
D.V.M.
Irene studied veterinary medicine at the Utrecht University in the Netherlands. Graduating in 2005, she then worked as a locum veterinarian in Holland and volunteered in clinics in Venezuela and Aruba. Ready for a new adventure, in 2007, she moved to British Columbia to practice veterinary medicine. Irene has a special interest in internal surgery and ultrasonography. During her work experience, she has developed extensive knowledge and a love of pocket pets, especially rabbits and rodents. Irene lives in Westbank with dogs Ali and Pepper, and cat Sammy. When she is not working, she likes to participate in outdoor activities such as hiking, mountain biking, camping, skiing, snowshoeing and dancing.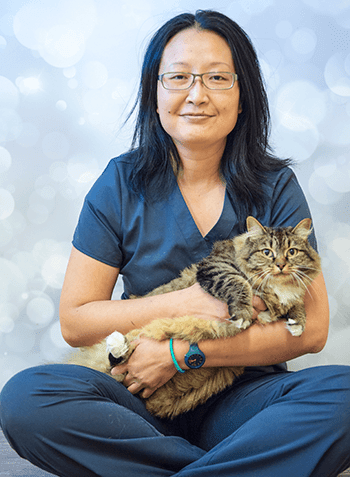 Evy van Nobelen
D.V.M.
Evy originally qualified as an architect, graduating from Oklahoma State University. Because of her interest in the human-animal bond and medicine, she then retrained and in 2013 graduated as a Doctor of Veterinary Medicine at the University of Utrecht in the Netherlands. Evy initially practiced in the Yukon Territory before moving to Kelowna in 2016, when she joined our hospital, bringing with her a strong interest in feline medicine, surgery and dentistry. When not working, Evy is an ardent urban sketcher. She also likes rock climbing, exploring new places and knitting, and can often be found walking her cat, Heineken.

Sara Watt
D.V.M.
Sara took her life-long interest in science and her love of animals to the Western College of Veterinary Medicine, where in 2009 she graduated as a Doctor of Veterinary Medicine. She then worked in New Zealand before returning to her home town roots in Vernon, BC. Sara came to our hospital in 2015, bringing with her a special interest in orthopedic surgery and a drive to help patients. Sara shares her life with her 6-pet family – her cats Midnight and Maybelle, dogs Luca and Scouty, and horses Goliath and Gypsy. She also has a range of interests including ballet, CrossFit, horse riding and cross-country skiing.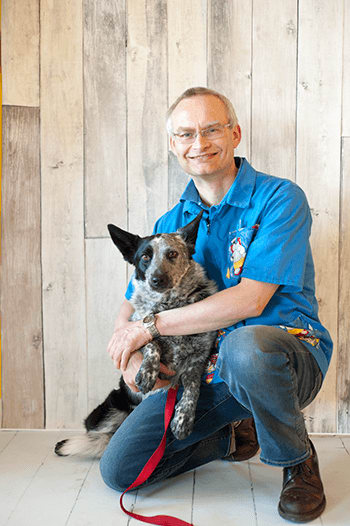 Marco Veenis
D.V.M.
Marco studied veterinary medicine and graduated with distinction at Utrecht University in Holland, which is one of Europe's largest Veterinary Medicine Colleges and is fully accredited with the American and Canadian Veterinary Medical Associations. He practiced small animal medicine for nine years in the Netherlands before moving to Canada with his wife Liesbeth, daughter Marthe and son Luuk. In 2002, Marco and Liesbeth purchased Okanagan Veterinary Hospital and built the practice to become a full service small animal hospital with a strong surgical component. The hospital completed an expansion and major renovation in 2008. An avid outdoor enthusiast, Marco can often be found hiking through the woods with his dog Bijke.